Proven Record
In business for over 25 years, we are the leading national provider of environmental remediation solutions to private industry clients.
Outstanding Performance
We are a direct performer of remediation and geotechnical construction services, executing complex projects in a safe, cost-effective, and schedule-adherent manner.
Unparalleled Health & Safety
Protection of human health and the environment is our first priority. Our outstanding safety performance has earned us industry-wide recognition.
Delivering Innovative, Cost Effective, and Safe Solutions
Our unique group of experts create and implement field remediation and geotechnical solutions for a range of private industry clients at active facilities and dormant properties. We own a large fleet of heavy equipment for remediation, earthwork, and geotechnical construction.
Founded over twenty–five years ago on the belief that safety, technical excellence, field expertise, and sound business practices are all necessary to deliver outstanding service, ENTACT is recognized today as a premier provider of environmental services. We are capable of successfully and safely addressing our clients' most challenging projects.
Show More
Our Services
Our field and technical capabilities enable us to create and deliver innovative solutions to many environmental and geotechnical construction challenges.
Site Preparation, Water Management & Restoration
Excavation
Stormwater Management Controls and Collection Systems
Demolition
Earth Retention and Dewatering Systems
Revegetation
Geotechnical Construction Services
Ground Improvement
In-Situ Gravity Retaining Walls
Deep and Shallow Soil Mixing
Earth Retention/Structural Support
Soilcrete and Overlapping Columns
Settlement and Liquefaction Mitigation
Sheet Piles, Soldier Piles and Lagging
Slurry Walls and Intercept Trenching
Cap & Containment
Composite Capping Systems
Soil Covers
CAMU and Cell Construction
Slurry Wall Construction
Landfill Construction
Soil Mixing
In–Situ & Ex–Situ Treatment
Solidification/Stabilization
Chemical Fixation
Chemical Oxidation
Bioremediation
Wet Soil Conditioning
Permeable Reactive Barriers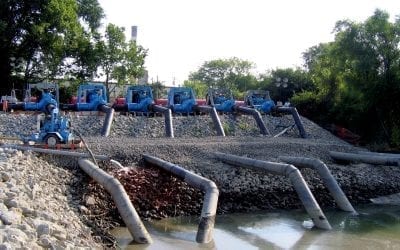 Sediment Removal & Management
Mechanical Dredging
Coffer Dams
Dewatering and Treatment
Subaqueous Barrier Placement
Stream Realignment and Bank Stabilization
Wetlands Mitigation
Coal Ash Impoundment & Landfill Closure
Dewatering Systems
Ash Management
Wet Ash Conditioning
Landfill Construction
More About Our Services
Featured Projects
We work throughout the United States as well as select international locations, creating and implementing remediation and geotechnical solutions for a range of private industry clients.
More Featured Projects
Our Awards
2017 H&S Award

National Safety Council Hazard Recognition Crystal Award 2017

2017 H&S Award

National Safety Council Industry Leader Award 2017

Best in Class Award

2016 Best in Class Award

Excellent Supplier Award

2016 Excellent Supplier Award
More About Our Awards